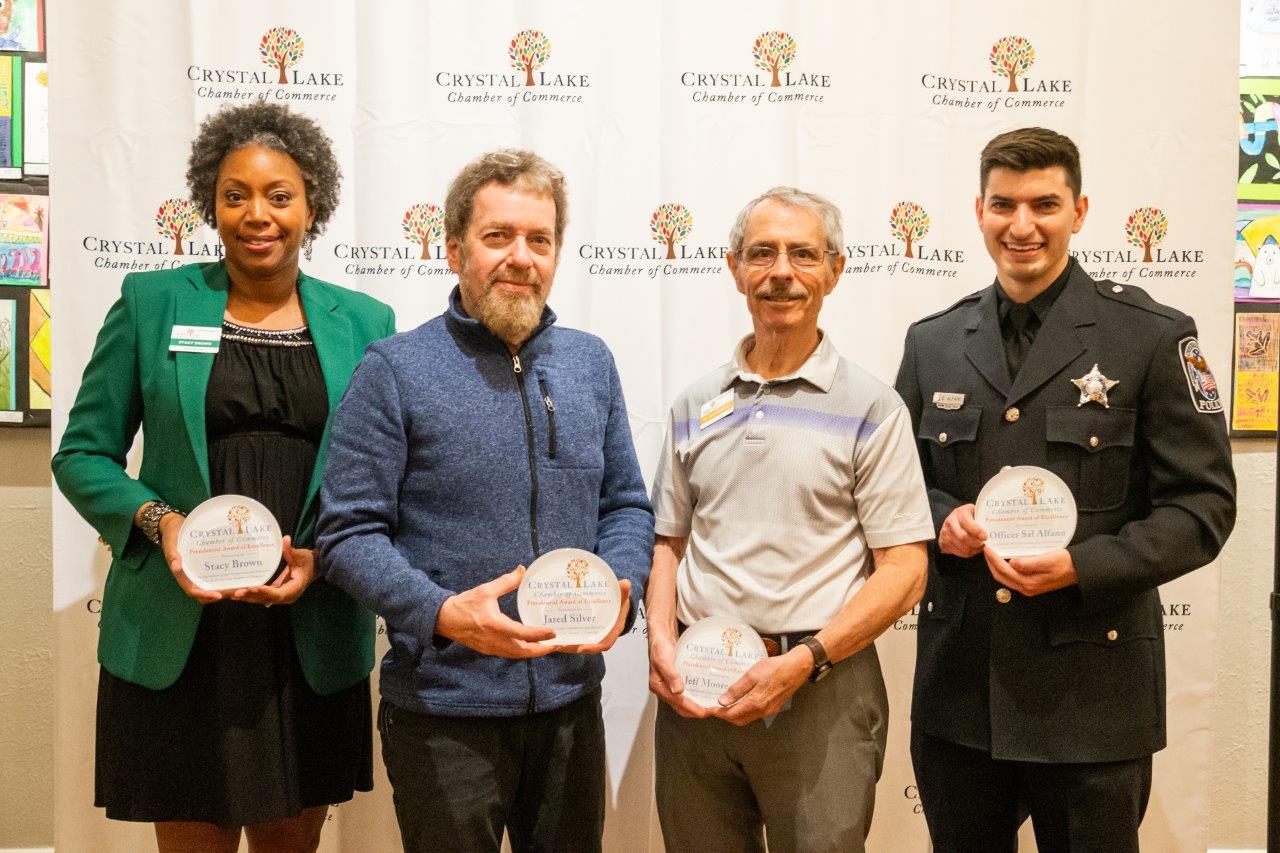 THURSDAY, MAY 19TH, 2022
The 2022 Annual Awards Dinner was held at The Dole on Thursday, May 19, 2022 with 132 in attendance. Our evening was filled with a Keynote Address by James Haisler from the Heartland Realtor Organization, a check presentation made by the Chamber Foundation to the Chamber, and many award presentations honoring outstanding leaders from our community. Our Keynote Speaker Sponsor was MercyHealth, our Presidential Awards of Excellence were sponsored by Advocate Good Shepherd and our the beautiful centerpieces were sponsored and provided by Countryside Flower Shop, Nursery and Garden Center.
Our evening was opened by a welcome and introduction of our Chamber Ambassadors by Kathy Powell. The invocation was given by Pastor Cathy Daharsh of Bethany Lutheran Church followed by dinner provided and presented by Fork-It Foods, Duke's Alehouse & Kitchen, Café Olympic and Julie Ann's. A special thank you to each of the food vendors for going above and beyond with the selections and display of amazing food. Following dinner the Chamber Foundation presented a $5,000 check to help support the Crystal Lake Chamber with Vicki Summers, Bob Blazier and Linda Barrett presenting. After an introduction by Jen Whitwell from MercyHealth, James Haisler gave his well-received Keynote Presentation on the State of the Real Estate Market, including residential, commercial and industrial views, trends and forecasts.
After Jim's presentation the award presentations kicked off first with a Pride in Crystal Lake (PICA) award given to Erin McElroy for her outstanding work as part of Operation Frontline, for helping our local businesses during the pandemic with the online shopping platform Localtile, and more recently for her work at The Dole helping to reinvigorate many community events and programs. The Presidential Awards of Excellence are presented by the Chamber to Chamber members that have gone above and beyond to help at Chamber events/programs and the Chamber staff. This year's recipients included Officer Salvatore Alfano for his work with us at Community Clean Up providing the Prescription Drug Take-back program. Also, Jeff Moore, D.C. who has been our go to helper at almost every Chamber event and committee. Jared Silver for all of his work helping the Chamber's Leaders in Action program operate via zoom during the pandemic and providing video coverage for those who could not attend the sessions. Stacy Brown for her tireless work with the Women Empowering Women networking group and as an Ambassador and a Board Member while also serving on numerous committees and as a member of the Nooner's Networking Group. In addition, we recognized Jennifer Johnson for her work as a Board Member and Ambassador including many leadership positions helping our Chamber through a number of very busy years.
This year's Carl E. Wehde Award was presented to the High School District 155 Business Incubator Program with Bryan Peckhart and Ryan O'Neil receiving on behalf of the program. This program was started over 5 years ago and has been instrumental in developing young entrepreneurial minds while pairing the students with local business leaders on projects. Many of our own Chamber members work with the program as mentors and judges.
The Robert O. Covey Award was presented to Miller Verchota, CPAs Inc. with Mary Miller, John Verchota, Jeff Seda and Emily Fornwall receiving the award. Miller Verchota, CPA's contributions throughout many organizations in our community have positively impacted many many lives. Their involvement as advisors and volunteers at many local not for profit organizations have helped these organizations become more fiscally responsible and grow their own impact. Mary Miller has served as Treasurer of the Chamber and served on may other boards while John Verchota has also served on many boards and currently serves on the Crystal Lake Food Pantry Executive Board.
It was with great pride that those in attendance received these award winners with applause and expressions of thanks that closed out our evening. Thank you to everyone who helped make the evening so wonderful, especially the Chamber Staff including Kristin Parkin, Wendy Pratola, Nick Kubiak and Drew Casaccio. A special thank you to the Annual Awards Dinner committee including Patti Lutz, Jennifer Johnson and Brad Heldt for all their work up to and during the event!