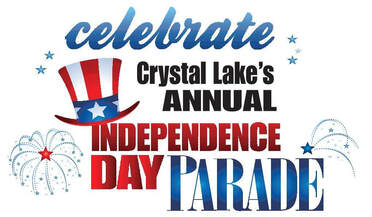 INDEPENDENCE DAY PARADE
SUNDAY, JULY 5, 2020
CANCELED
For decades, the Crystal Lake community has celebrated the Fourth of July together with a parade that draws tens of thousands, family friendly events and culminates with a fireworks display. Unfortunately, the many obstacles to planning a 2020 event in the face of the COVID-19 pandemic have resulted in the determination by the Crystal Lake Chamber of Commerce with guidance provided by the City of Crystal Lake to cancel the Annual Independence Day Parade that had been scheduled for July 5, 2020.  While disappointing to so many, this determination was made in the public health interests of Independence Day Parade participants, vendors, suppliers, volunteers, guests and partner agencies such as the Crystal Lake Lions Club, and others. Factors influencing the decision include: the on-going spread of COVID-19 infection in Illinois, current Executive Orders with assembly restrictions, social distancing requirements that appear likely to continue into the summer, even if a phased reopening begins soon, and contractual and event planning obligations.
This was a very difficult decision for those involved in the Crystal Lake Independence Day Parade but the wisest course of action given the current situation. It is with great regret that we have to say that we look forward to seeing everyone in 2021. The Crystal Lake Chamber of Commerce is committed to a full celebration, better than ever, next year.
We will be refunding any application funds that we have received.
Crystal Lake Chamber of Commerce
Thank you to our sponsors: 
Home State Bank, Mercyhealth, NW Herald and Star 105.5