The Crystal Lake Chamber of Commerce was founded in 1940 to promote, support, and expand businesses and is committed to fostering an environment which creates jobs, enhances economic opportunities and improves the quality of life for Crystal Lake and the surrounding areas.  While trade groups and industry associations represent specific industry sectors, there is no other organization that represents the collective business interest the way the Crystal Lake Chamber does.
As a Chamber we work to: Promote and strengthen the local economy, represent business interests with governments and take political action, develop leaders,  and provide opportunities to establish and build relationships.  We invite you to explore our website for the numerous opportunities for you, your business, and your employees to join us and get engaged.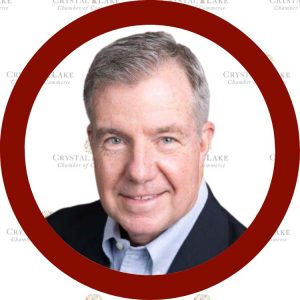 Randy Leggee
President / CEO
rleggee@clchamber.com
At the Crystal Lake Chamber, our number one goal is to bring value to your businesses and we will strive to create new and innovative ways to do that. A successful and thriving business community helps us all!
I hope that you will seek us out to realize all of your membership benefits, and let our team here at the Chamber go to work for you. We have many options to help you with educational resources, connecting you with other businesses that you can partner with, being your representative on important governmental issues that can impact your business, assisting with marketing, leadership training, and many more ideas that can drive your business. I am most looking forward to meeting with as many of you as I can and please do not hesitate to reach out to me.
Randy has been with the Chamber since late-2022!
Membership Services Manager
Marketing & Communications Manager
Community Outreach & Events Coordinator
The Vision of the Crystal Lake Chamber of Commerce
is to be the business force and foundation connecting
the community through integrity, leadership, value,
growth, and service.
The Mission of the Crystal Lake Chamber of Commerce is to create value and opportunity for our members with the belief that a positive business climate is an integral part of a healthy community.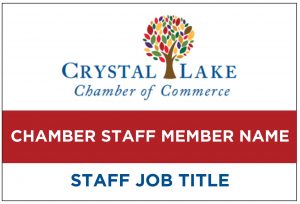 Be on the lookout for the Chamber Staff at Chamber events!