The Crystal Lake Chamber of Commerce was founded in 1940 to promote, support, and expand businesses and is committed to fostering an environment which creates jobs, enhances economic opportunities and improves the quality of life for Crystal Lake and the surrounding areas.  While trade groups and industry associations represent specific industry sectors, there is no other organization that represents the collective business interest the way the Crystal Lake Chamber does.
As a Chamber we work to: Promote and strengthen the local economy, represent business interests with governments and take political action, develop leaders,  and provide opportunities to establish and build relationships.  We invite you to explore our website for the numerous opportunities for you, your business, and your employees to join us and get engaged.
Membership Services Manager
Marketing & Communications Manager
Community Outreach & Events Coordinator
The Vision of the Crystal Lake Chamber of Commerce
is to be the business force and foundation connecting
the community through integrity, leadership, value,
growth, and service.
The Mission of the Crystal Lake Chamber of Commerce is to create value and opportunity for our members with the belief that a positive business climate is an integral part of a healthy community.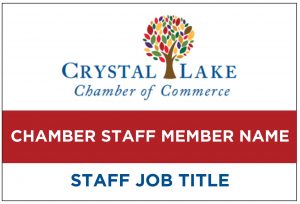 Be on the lookout for the Chamber Staff at Chamber events!