Thank you to our 2020 Monday Night Football Sponsors Crystal Lake AAMCO, Chas. Herdrich & Son, and Eby Graphics!
2020 MNF Committee: Ken Pringle, Chair, Gary Bonick, Ron DuBrock, Alexa Malouf, & Mike Wheeland
 Donna Sather, Staff Liaison
2020 Monday Night Football Winners
Weel 16: Alexa Malouf & Colleen Nelsen
Week 15: Bob Blazier & Josh Sheiblein
Week 14: Meg Anderson & Kathy Powell
Week 13: Diana Kenney
Week 12: Neville Brown, Mike Doomis, & Ricky Salado
Week 11: Don Ciaglia & Ann Viger
Week 10: Jennifer Johnson, Judy Pelinski, & Michael Scholl
Week 9: Ron DuBrock & Mick Majzner
Week 8: Stacy Brown & Randy Smith
Week 7: Ken Pringle & Mike Splitt
Week 6: Ron DuBrock & Josh Lyons
Week 5: Ryan Frisbe & Ken Pringle
Week 4: Dawn Gilman, Jamie Seda, & Ed Wristen
Week 3: Joe Waclaw & Christian Malouf
Week 2: Bob Blazier & Chuck Olker
Week 1: Bob Blazier, Amanda Thinnes, & Denise Pritcher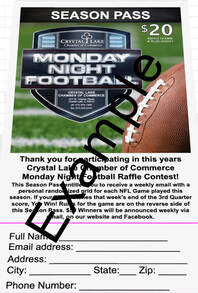 Season Passes and Virtual Game Play this year!
The 2020-2021 NFL Football Season is just around the corner.  The NFL's first game between the Kansas City Chiefs and the Houston Texans is scheduled for Thursday, September 10th, 2020 and our Chamber is gearing up for the season.
Due to a number of factors, including Covid19, we are making some changes to our Monday Night Football Fundraiser this year.  We will not be selling books this year.  (as you read this, I am imagining a chorus of Yeah!  Whew!  Thank Goodness! and so on.)  While there won't be the MNF books to throw in a drawer and forget about or get frustrated when you need to see if you won this week and you can't find it, we are offering our randomized grid format weekly game in a virtual format this year.
How is that going to work?, you might say. Well, we will be selling Season Passes to our newly formatted game that will be done entirely by email. Once you purchase a Season Pass for $20, you are entitled to participate in each weekly contest throughout the season.  You will receive a weekly email with your own personalized randomized grid and instructions.  The game will be played exactly the same as last year and previous years.  The score of the two teams for that game at the end of the third quarter will be how the contest winner is determined.  You can just pull up your email from the Chamber that week and check your grid to see if you won or not.  Every participant will receive a second email each week announcing the weekly winners.
SEASON PASSES CAN BE PURCHASED AT ANY POINT DURING THE SEASON!
​
We are excited to share this new MNF Contest Format with you so you can enjoy a little friendly competition with other Chamber Members/Friends and possibly win some cash!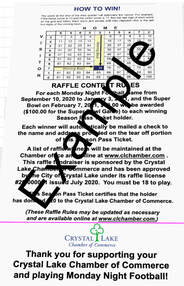 FAQs
What if the NFL decides to cancel a game, some games or the entire season?  Does the contest just end? 

Nope, we've thought that through, too.  In the event of a missed game, multiple missed games or even the entire season being cancelled, our contest will still go on.  We will be playing the missed weekly game on a PlayStation 4 using Madden 2020 and the same two NFL teams.  This game will be played entirely computer vs computer so there won't be any human advantage or interference in the outcome.  The results at the end of the third quarter of the virtual game will be made available via Facebook and our website, as well as, in an announcement indicating that week's winners in the follow up email.

Can I just sign up for a specific week or a few weeks but not the whole season? 

Yes, you can but we will not be offering that option until the Season starts.  Also, if you want to play a single week's contest the price is $5, two games would be $10 and three games would be at the basement bargain price of $15.  This gives you the option of signing up for only the Bears/Packers game or any other game during the season.

What about all that advertising that was in the MNF books?

We are offering MNF Sponsorship and Advertising Opportunities to Chamber Members at slightly reduced rates from last year, but you will see their ads in the game and winner emails sent each week.  You will be able to click on a Sponsor or Advertiser's Ad and go straight to their website for any promotions offered or just for more information.

Can we get together and watch the game somewhere? 

Of course!  We hope to have opportunities to meet and watch that week's game at various establishments.  We have also talked about having a MNF Virtual Pub Crawl where you can pick up your favorite adult beverage, turn on the game at home, hop on Zoom and connect with other Monday Night Footballers to enjoy the game virtually.  More information will be shared as the Season goes on.