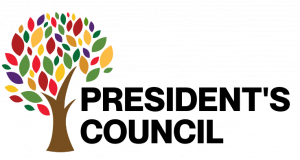 President's Council contacts current members, welcomes new members and keeps in touch with all members during the course of the year. Council members are committed to increasing and enhancing member involvement through personal contact with fellow members.
Staff Liaison: Kristin Parkin

Social Indoor of NW Chicago
Social Indoor offers alternative out-of-home advertising concepts to McHenry County, Lake County, Kane County and Cook County in Northern Illinois. Reaching captive audiences is the key to successful advertising and we develop medias that can't be tuned out, turned off or missed. Social Indoor uses restroom billboards to key into captive audiences with disposable income while they are distraction free and open to new concepts.
Social Indoor billboards can be found in sports bars, fine dining, casual and family restaurants, golf courses, health clubs, beaches, and health clubs to name a few.
Our objective is to deliver an affordable branding concept that can be utilized by companies large and small.
Specialties: After purchasing advertising for two companies for over ten years, I have walked in my client's shoes and understand the importance of a good marketing mix. Different industries require different marketing mixes, however the key to success is the same for everyone; experiment with different forms, find what works, and stick with it.
Social Indoor of NW Chicago

Franchise Owner

Crystal Lake

Social Indoor provides captive advertising to socially active people while they are out spending disposable income. We live in a world of distraction, Social Indoor has found the one place where you can still get someone's undivided attention and build awareness and excitement for your brand.

President

Social Indoor of NW Chicago (formerly AllOver Media)

AllOver Media is a cutting-edge marketing company serving Chicago's Western and Northwest Suburbs. All Over Media specializes in Out-of-Home advertising, primarily with our Bathroom Billboards and Gas Pump Billboards.

The AllOver Media Indoor billboard looks like a piece of framed artwork. They feature a 17x 11 printed advertisement or a full 17x 22 printed poster. These ads attract attention and create interest! Our indoor billboards are currently installed in over 250 of Chicagoland's most popular and affluent restaurants, nightclubs, health clubs, sports bars and family fun centers. Our venues offer a captive audience that can be targeted by demographic and/or geographic profile. Clients can purchase a local area or the entire region. And best of all, people welcome the opportunity to read something while using the restroom. Imagine having ads that people enjoy seeing! …

Director of nationally accredited vocational school.
Southern Illinois University, Carbondale

Bachelor, Finance

–
STACY BROWN
Contact me 
---
My approach.
Helping clients understand their options and achieve their goals are what make my job so rewarding. Every client is unique, so together we can develop a personalized approach that meets today's needs and tomorrow's as well.
Helping clients understand their options and achieve their goals are what make my job so rewarding. Every client is unique, so together we can develop a personalized approach that meets today's needs and tomorrow's as well.

  360 N. Route 31
Crystal Lake, IL 60014
815.455.4330
 Corporate Account Manager
Michelle is the Corporate Account Manager for Anderson Motor Company which includes BMW of Crystal Lake, Mazda of Crystal Lake and Volkswagen of Crystal Lake.  In addition to corporate sales, she is the client advisor representing both BMW and Mazda and a product genius for BMW.  She is happy to help you find the perfect used car as well.
When Michelle is not working, she and her daughter Morgan Rose, love to spend Sundays at the pool or golfing.  Morgan recently celebrated her 15th "Quarantined" Birthday, so she is teaching her to drive!
Michelle is very proud to be a volunteer "Big" for Big Brothers Big Sisters of McHenry County.  She loves working for Dan and the Anderson Motor Company as they support her passion for volunteering in this amazing community.

In Sync Systems, Inc.
   257 King Street
Crystal Lake, IL 60014
815.459.1773
Director of Vendor Management/Sales
Mike is a 3-time President Award winner from his prior work at AT&T and a  2-time VP award winner at Ameritech.
Community Service, etc. He was awarded a US patent while he worked at AT&T.
Mike is an avid swimmer and is a member of the Illinois USMS (United States Masters Swimming) Board of Directors.
In Sync Systems has been in business for nearly 30 years.  We provide structured cable, CCTV cameras, access control, business telephones, and telephone bill consulting services
Mike has two children and 1 granddaughter.

Titus Mielke
847-722-4027
titus.mielke@gmail.com
Principal at The H.O.P.E. Group Staffing
The H.O.P.E. (Help Other People Excel) Group Staffing is the Total package on relationship building and staff augmentation. We have an effective 3 step approach: Find the greatest candidates, for the most cost effective price, faster than anyone!!!

Principal
The H.O.P.E. Group Staffing
Greater Chicago Area
The H.O.P.E. (Help Other People Excel) Group is a Minority-Owned staffing organization, certified in delivering comprehensive staffing services to the best organizations in the country. We specialize in Healthcare, IT, Manufacturing, Professional, Automotive and Engineering!!!
We have a vast, top notch candidate pool, the quickest deliverables and the lowest prices onshore!!!
Don't believe me? Try Me?
Titus
Titus.Mielke@gmail.com
Account Manager at Reliance One
Reliance One, Inc.
Business Development Manager
TotalMed IT
Schaumburg, IL
Consultant

TotalMed Staffing, Inc.

Chicago
Trinity International University

Bachelor's, Psychology

Located in the Advanced Chiropractic Center
333 Commerce Drive
Crystal Lake, IL 60014
815.245.4624
My mission is to help people be well without the use of drugs or surgery. I like to help people understand that health and healing are a normal and natural part of everyday living.
Personally, I live and practice by a set of values that are the bedrock of my life and business. I treat everyone with honesty and integrity. I never give a person more treatment than they need or mis-represent the value of a treatment. If I can't help you, I'll tell you and, where possible, recommend other professionals I trust. I won't give up on your health. As long as you are working with me, I'll continue to give you my best treatment and support. From me you'll get the same high level of care and attention that I give my own family
I'm a 1979 graduate of Palmer Chiropractic College. Chiropractic was not my first career choice. While serving in the Navy I was a pretty good diesel mechanic. After the Navy I came back to Green River Community College in Washington State where I was studying to become a physical therapist. While there I met and became friends with a chiropractic student at Palmer College who got me excited about how chiropractic would give me even more skills to help people. So I was off to Palmer in Iowa.
Before coming to Crystal Lake in 1992 I practiced in Rock Island, IL and South Beloit, Illinois.
In addition to my chiropractic training, I'm also an EMT (Emergency Medical Technician), a Brown Belt in Judo, and I like most sports and exercise.
I have a daughter who has a degree in Special Education from the University of Illinois, and she has a daughter (my first grandchild). I also have a son, who graduated from Columbia University of Chicago with a degree in animation arts. I am continually amazed at what he can do with computer animation.
Each Tuesday morning at 7:30 you'll find me meeting with the Crystal Lake Chamber Business-2-Business networking group, and I'm active in a number of chamber and community service organizations.