Covid-19 Compliant Business Partner Program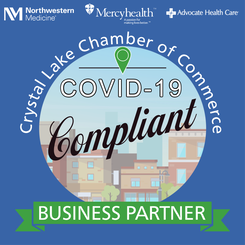 Reopening Quickly and Safely!   
 Guidelines for a COVID-19 Compliant Business  
Many in the general public are greatly concerned about face to face interactions like shopping or visiting a business because of the risks associated with Covid-19.  As a result, we anticipate consumer reluctance to physically coming in to many businesses in Crystal Lake over the coming months.
To address this and to further encourage the business community to reopen and comply with the Illinois Department of Public Health guidelines of the "Restore Illinois" Plan, the Crystal Lake Chamber of Commerce is launching the "COVID-19 Compliant Business Partner" program, sponsored by Advocate Health, Mercy Health and Northwestern Medicine.  By following the basic guidelines of the Illinois Department of Public Health, and utilizing the signs and logos provided via the link below, we hope to ease the concerns of the public by assuring them that each partner business is providing a safe workplace or store to shop in.  Participating businesses will also gain additional exposure by being highlighted on our website and Facebook pages.
Chamber members who adopt these guidelines are encouraged to share that they are complying. To promote this, we have also created a "Crystal Lake Chamber of Commerce Covid-19 Compliant Business Partner" logo along with other Compliant and Occupancy signage that can be used in the workplace and on social media. Businesses are encouraged to post this logo prominently in their storefront windows, on their website, on social media, and any print material they produce to let their customers and the community know that they have gone to the extra effort to make their store or workplace safe for shopping and purchasing.
Covid-19 Compliant Business Partner Guidelines
The following guidelines focus on each business creating a safe work/shopping environment for all on-site employees and customers including: 
Create physical separation. Health officials advise that all individuals should remain at least six feet apart to avoid possible transmission. Employers should establish protocols that require all on-site employees maintain a distance of at least six feet while working.  

Require and provide PPE for all on-site employees.    

Comply with the IDPH Occupancy guidelines for your type and square footage of business.   

Expand cleaning operations. Companies where workers must remain onsite and/or are open to the public should increase cleaning protocols of all high-touch and high-traffic areas throughout the day.   

Employers should provide sufficient hand sanitizing stations, guidelines for proper hand washing and soap at all hand-washing stations to ensure proper hygiene at the workplace. Employees should refrain from handshaking.  

Require sick workers to stay home. To minimize exposure to other personnel, all workers who are experiencing even mild symptoms should avoid the workplace, report the situation to their supervisor and remain home.   

This program is only available to Chamber members and we are hoping to get as much participation in this program as possible.  We feel it will truly help your business prosper during this difficult time.  We are working with the Northwest Herald and using other media sources to get the word out to consumers and the Crystal Lake Community.
Please go to our website using the following link: Covid-19 Compliant Business Partner Program for more information and access to the logos and flyers for print and online use.
Additional information:
The Crystal Lake Chamber has designated portion of its website: www.clchamber.com with links to the principles, a business reopening toolkit and other Covid-19 Business Resources.  Please visit our website for current resources.
McHenry County Department of Health
Link to PPE Availability and Suppliers on our website
Please post a photo on the Chamber Facebook page as soon as possible so the Chamber can share your success stories.
Let us help the community reopen quickly and safely!  Thank you for your partnership!